Distributor Sales Tools
Visual Effects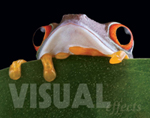 There are various kinds of varnish that can be applied to printing. If you need to add impact to a piece, a gloss coating can help colors appear richer and more vivid. For a non-glossy, smooth look, a dull varnish can help soften appearance and reduce glare.
Samples are printed using 6 color Komori with In-Line Aqueous Coating capabilities. Cover printed on 80# House Gloss cover, inside printed on 100# House Gloss text.
Large Format Swatch Book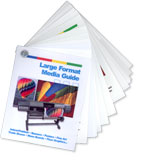 Our swatch book features samples of our most commonly used imaging substrates plus a list of substrates available on request. Large format printing is one of the fastest growing areas of the printing industry. Start selling now with our swatch book.
Swatch book is 4″ x 5″ and is secured with a removable bolt so that you can easily add or remove pages.
Plastic Poster Edging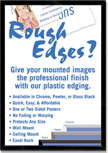 Give your large format jobs a professional finish by adding plastic edging in Pewter, Chrome, or Black.
Sample poster is 5.5″ x 8.5″, mounted on 3mil Sintra, comes with black edging and an easel back for display
Large Format Sales Sheets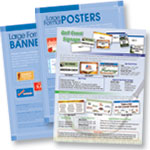 Our sales sheets promote three of our most popular large format products – posters, banners, and our golf event signage.
Printed Digital 4C Process, one side, 80# uncoated text. List price printed on sheet with discount code. Order forms available also.
Shelf Talkers


Vinyl shelf talkers swing and sway attracting attention to your messages and products.
Samples is die cut to 4″ x 10″ and 4C digitally printed, two sides on 10 mil white vinyl.
Go UV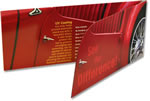 Printed on 100# gloss stock utilizing our HP Indigo press 5500, these high quality samples are UV coated on one side to show the difference between non-coated and coated stock.
Door Hangers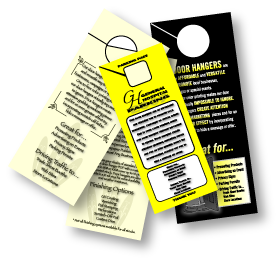 We have several hang dies that can be used on a variety of sizes. Uses vary from doorknobs to hang tags for cars and can incorporate any of our Fun & Games techniques and/or personalization for added incentive.
Samples are printed using two ink colors front and back on 100# gloss cover. Various sizes and styles included.
Presentation Folder Booklet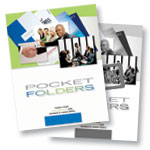 Presentation folders are a fantastic way to hold together all your marketing collateral. We provide a non-branded booklet showing different styles of standard folder dies along with a distributor pricing guide.
Booklet is printed Digital 4C process on HP Uncoated stock. Pricing guide is printed in black only. Both are folded to 8.5″ x 11″ and saddle stiched.
Variable Data / Digital Printing Sample Pack


Various stock samples showing variable data and personalization effects.
Samples pack contains various sizes, stocks, and products from post cards to sales and data sheets. Printed on our HP Indigo press 5500, these samples are a great tool for explaining how variable data works.
Table Tents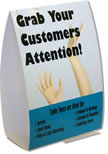 Grab your customer's attention with graphically pleasing, strategically placed table and counter tents.
Overall Sample is 4″ x 16″ and folds to 4″ x 6″ x 2″. Sample is 4C process on 100# cover.
Digital Offset Color Sample Pack


Utilizing the same eight images as our DI Sample Pack, these samples will show you why our HP Indigo press 550 is the best digital press on the market.
[/ezcol_1half_end]
Fun & Games Sample Pack
Various samples of scratch-offs, pull-tabs, and other conceal and reveal printing methods. Various sizes and print methods used.
[/ezcol_1half_end]
Fun & Games Case Studies
You'll be able to glean useful information from these detailed case studies. Read about real life promotions that had amazing results!