Pre Press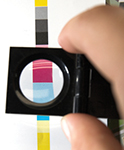 We help you get it right—the first time!
Our pre-press proofing services give you a preview of the final product. These proofs ensure we achieve your desired results.
Our prepress staff is highly skilled and just a phone call away if you need technical advice. Experienced in using various software applications and techniques, our staff will preflight your files using standard print specifications. As an added benefit we also provide quality control inspections of your files and photos. We accept Adobe Photoshop, InDesign, Illustrator, and Quark Xpress files, as well as Microsoft Word, Publisher and PDF files.
Confirm color accuracy with a hard-copy proof, or save paper and request a digital proof. Of course, each project has its own unique challenges. For those who are unsure which proofing path would work best, or are in need of additional services not listed here (scanning, typesetting, designing, color correcting), please contact us so we can offer tailored solutions.
Still have questions? Contact our PrePress department at 800.443.2845