Mailing Services
Upon placing an order with Victor Printing, Inc. that requires mailing services, you will be asked to fill out an NCOALink Processing Acknowledgment Form. For more information, read below:
"The collection of information on this Processing Acknowledgment Form (PAF) is required by the Privacy Act of 1974. The United States Postal Service (USPS) requires that each NCOALink Licensee have a complete NCOALink PAF for each of their NCOALink customers prior to providing the NCOALink service. The Licensee is also required by the USPS to retain a copy of the completed form for each of its customers and to obtain an updated PAF from each of its customers at minimum once per year. Any signature upon this PAF shall be considered valid for all purposes and have the same effect whether it is an inksigned hardcopy document or equivalent alternative.
If you have not filled out a NCOALink Processing Acknowledgment Form, or if it has been longer than a year since you have done so, we have attached a downloadable form for your convenience. Simply fill out the information & return it to Victor Printing, Inc.
Setting up your mail piece
Basic guide for a 6"x4" postcard setup and required spaces for the post office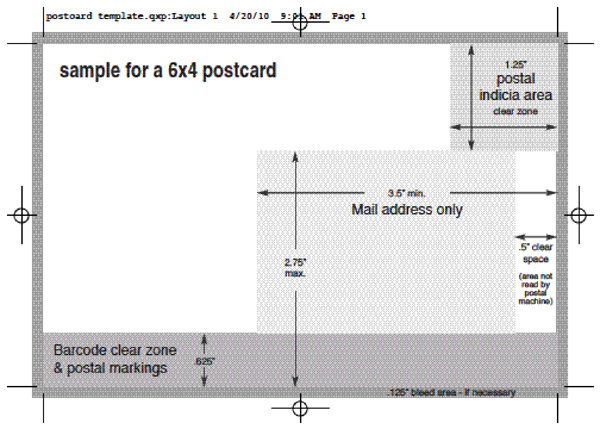 A few basic things to remember about First Class Mail®:
• Minimum mailable size for mailpieces: 5" long x 3-1/2" high x .007" thick
• Maximum size for postcards: 6" long x 4-1/4" high x .0016" thick
• Maximum size for letters: 11-1/2" long x 6-1/8" high x ¼" thick
• Maximum size for large envelopes: 15" long x 12" high x ¾" thick
When a piece of First-Class Mail® exceeds the maximum length, height, or thickness of one shape, it is then classified and sized for the next larger shape.
If you need further assistance, visit the USPS website at www.usps.com.
Our Services
As a mail house we offer mail list management, processing of one mailing list, CASS Certification (will allow mailing to eligible for certain bulk postage rates), NCOA data review (reduces risk of undeliverable mail), presort, setup, addressing and delivery to local post office. If multiple lists are supplied, there may be an additional cost for multiple list management. There are several types of files we can use, the most common are tab and comma delimited, MS Ado, Microsoft Excel, MS Access and MS Word. If you have another type of file and are not sure if it would be usable, please contact our customer service department. We are not offering mail list generating for online ordering at this time, but look for it to be available in the near future.
For some frequently asked questions concerning mailing services, see our FAQ section. If further assistance is needed, our customer service department is available at 1-800-443-2845, during regular business hours.