Note Pads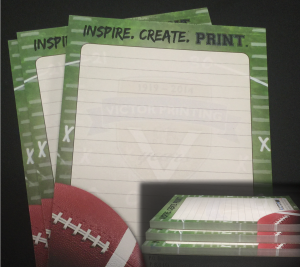 Notepads can make for a very powerful business marketing tool. They can brand a business with very little effort.
Put your client's brand and contact info in front of their customers everyday with notepads.
Victor Printing can help you create a notepad of any size, shape, or sheet quantity. Custom die-cut shapes are also available and are real attention-getters!
Easy to design, order and print, notepads can be easy on the budget too.
Notepads are a terrific company reminder. Leave them with the right people at the right places and they will help draw in future business!
Custom notepads can be ordered to your specifications when you request a quote or contact one of our print experts.