Menus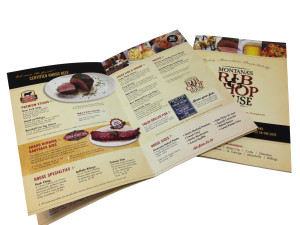 A menu is the most important internal marketing and sales tool a restaurant has to market its food and beverage to customers.
Think of a menu as a restaurant's business card. It introduces the customer to the restaurant, and its design complements the décor, food quality, and the price range of the restaurant.
A properly designed menu can help any restaurant – whether it is fine-dining, casual-theme, fast food – achieve its sales goals, keep costs in line, and increase a desired check average.
Increase your customers' restaurant sales with custom menu printing! See how a great menu printing devours the competition!
Ask about our waterproof and tear resistant stock for your next custom printed menu project. Impart a lasting impression by using synthetic paper on you next menu project!