How to Sell More Print to Restaurants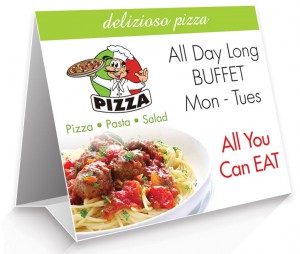 There is no recipe for success when cultivating the restaurant market. It represents a huge area of opportunity, but of course not risk-free. With a little research and some help from Victor Printing, print in the restaurant industry can offer terrific financial reward.
For the person who is not actively marketing print to restaurants, and for those who would like to improve his or her success rate, one of the keys to success is understanding what the restaurant owner's needs and wants.
If you are hungry for profits, then we've got the print and products solutions for you! In today's highly competitive restaurant environment, distinctly unique marketing materials enable your customers to stand apart from their competition and pique the interest of current and potential customers.
At Victor Printing, we will handle your most creative and challenging restaurant marketing strategies. We will find the right solution for your custom printing project.
Restaurant owners know how important it is to make a great first impression. It all starts with a friendly staff, an inviting environment, and outstanding food. No less important is the look of printed materials, which play a major role in the overall dining experience. Make guests crave your customer's cuisine with attractive images, rich descriptions and most of all top-notch printing.
Below is a list of some of our products:
Menus
Posters
Table Tent Signs
Coupon and Discount Cards
Placemats
Scratch Off cards
Wall & Floor Graphics
And MORE!
We can provide the complete marketing solution.
For a complete list of our restaurant marketing materials and your free "Complete Restaurant Print & Product Solutions" sell sheet, click this link –> Restaurants Vertical Sheet.
You can also order this sell sheets imprinted with your company information and logo, please contact us at postmaster@victorptg.com or 800.443.2845.