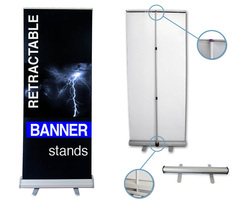 Showcase your company information or personal message with Victor Printing's retractable banner stands. Compact and easy to use, a retractable banner stand is an effective and attention grabbing marketing solution for any trade show, business event, or even storefront.
With only one person required for set-up, you can have an impressive advertising tool in seconds!
This is something many of you already know, but surprisingly many people have not though of. Retractable banner stands are the swiss army knife of the trade show industry. Clients use them to augment their booth space or use to adorn their lobby.
You can also use several banner stands in tandem to create a booth back wall. Some banner stands have telescopic poles allowing them to display at a variety of heights. With the right design and a retractable banner stand with a telescopic pole, you can use the same banner stand and graphic as a tabletop display and a floor display.
Need a retractable banner for your next event? Victor Printing has you covered. Create your custom retractable banner from scratch, or utilize our Professional Graphic Design Services.
These retractable banners stand on their own, and are a great addition to any pop up display. Whether it's a trade show, corporate event, or promotional appearance, our retractable banners get the job done, then roll up for easy transport and storage.
Do you need signage that is portable and easy to set up and take down? Look no further, our retractable banner stands are lightweight, and quick to set up and take down. These banner stands come with their very own carrying case. You'll never have to carry around a heavy display again!