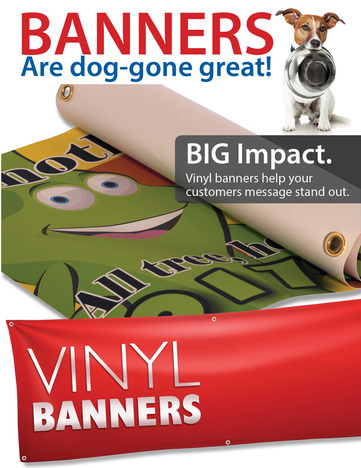 BIGGER is Better.
Banner marketing is one of the best ways to impact a very large audience – fast. Banners are the perfect marketing vehicle for advertising your customer's products and services at sporting events, trade shows, conferences, seminars, on busy city streets, campuses and more!
Banners will put you and your customers on track to make a BIG impression, and bring focus to your customers' business.
To sell more banners, target markets which include your best prospects and potential customers. These would include new businesses promoting their grand openings, retailer point-of-purchase displays, shopping mall owners and trade show booths.
Trade shows are perfect for banner use; they are highly visible with eye-catching graphics and illustrations. You will generate fast and effective attention from onlookers with banners. They are portable and easy to carry from one venue to another.
Selection. Service. And More.
Stand out from the crowd. Give your customers' business a boost with full-color custom banner printing. Using the latest in digital technology, Victor Printing will take their business to new heights!
Sometimes to get noticed, you literally have to go BIG.  
Call or email us for more Banner information today!
P. 800.443.2845 | marketing@victorptg.com