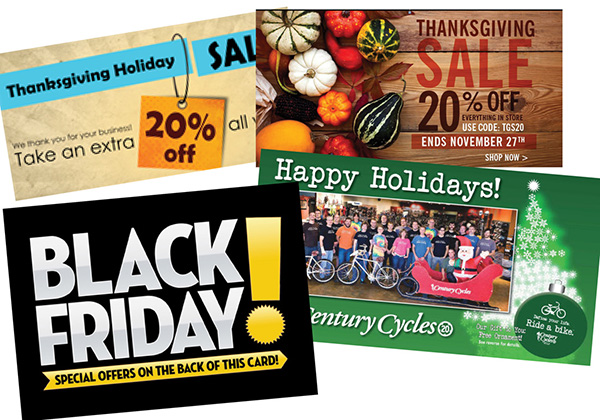 As the days left in the year come to an end and the holidays start rapidly approaching, many small business owners have their marketing plans ready to go. If you're looking to shake up your holiday marketing, or looking for a fantastic way to supplement your email marketing plans, think about adding postcards to the mix.
There are quite a few holidays coming up that can get a boost from direct marketing. Have you taken a look at the calendar for this month alone? Hanukkah, Thanksgiving, Black Friday, Small Business Saturday and Cyber Monday are all holidays that can be promoted through postcards and give them more impact. And, they all fall at the end of the month, so you still have time to get your postcards out now! Don't forget, with Thanksgiving so late this year you only have 4 weeks of promotion time before Christmas. Send a postcard or two and add a little oomph to that short holiday marketing window.
Here are some holiday inspired ideas to get you started with direct mail postcards:
Give Thanks: This is a perfect opportunity to give thanks to your customers for supporting your business. A simple "Thank You" can go a long way toward increasing customer loyalty. Your customers may thank you in return by shopping or using your business this holiday season and on into the new year. You can go one step further and have a special "Pre-holiday" or Holiday Thank You open house and invite your customers to visit your business for some socializing and refreshments. And maybe a special deal or two.
Stand out from the inbox crowd: Since inboxes are pretty crowded this time of year, try sending a postcard to entice your customers to shop with you. Include special gifts or new products that your customers may want to know you offer. Or include gift card or stocking stuffer ideas for those last minute shoppers. Add a URL where your recipients can find the products you offer on the postcard. By doing this, you can track those who come to the site to take advantage of the offer. If you don't have a website they can shop at, ask them to bring in the postcard for a special deal on the product or service. Plus, you'll know how many people responded to the postcard offer.
Reminders: Not all businesses offer products for sale, but this time of year is also busy for service-oriented companies too. Let your customers know you're there for them, especially during the holiday season. Whether you have a plumbing, gardening, catering, restaurant or spa business, you offer services that are much needed this time of year. A holiday party wouldn't be the same if the plumbing didn't work, so let your customers know ahead of time that your company is there when they need you. If you have a holiday event coming up, use postcards to remind attendees when and where the event is. They're super easy to stick to a fridge or board as a helpful reminder to stay top of mind.
Clean Your List: Start the New Year off right with updated email addresses. If you had some email addresses bounce in the last few months try sending a postcard to get your recipients to update their information. Ask them to go to your website, call or visit. You can even try offering a promo on services or products if they give you their new email address.
Holiday Greetings: Of course postcards are also an easy way to send holiday wishes to your customers, or family and friends.
With Christmas just two months away, the U.S. Postal Service is offering holiday shipping tips to help customers ship the 15.5 billion cards, letters and packages expected to be delivered in time for Christmas. Click here to get the Holiday Shipping Tips and 2014 Christmas Shipping Deadlines.
These are just a few examples of how postcards can boost your holiday business. How do you plan to use postcards this year?
Give one of our Print-Experts a call and we will help you with your customer's next Postcard print project!
#PostcardPrinting #DigitalPrint #PrintPartner