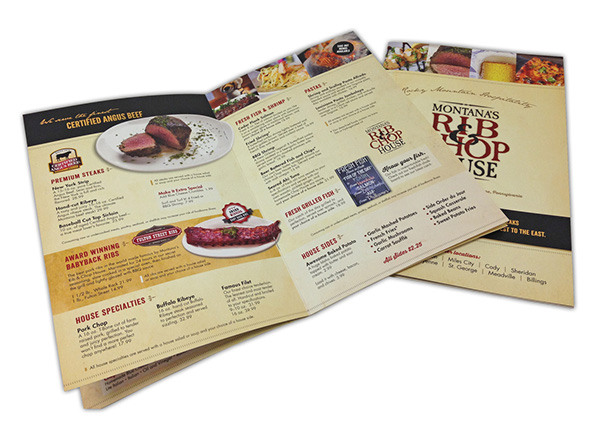 A menu is the most important internal marketing and sales tool a restaurant has to market its food and beverage to customers. Think of a menu as a restaurant's business card. It introduces the customer to the restaurant, and its design complements the décor, food quality, and the price range of the restaurant.
A properly designed menu can help any restaurant – whether it is fine-dining, casual-theme, fast food – achieve its sales goals, keep costs in line, and increase a desired check average.
But an award-winning menu doesn't end with the design, how and what it's printed on will ultimately decide the fate of a well-designed menu. Paper choice is crucial in conveying the restaurant's status. Choose the wrong paper or stock to print your menu and you will be throwing money right out the door.
As a behind the scene print source for a commercial printer in Meadville, PA – Victor Printing helped their client out of a crumbling, print dilemma with their menus.
A national chophouse style restaurant – famous for their casual dining concept, distinguishes it's self from their competition by an innovative, creative menu, featuring premium steaks, fresh seafood and award-winning baby back ribs.
Naturally, the restaurant wants their printed menu to reflect what customers have come to expect: perfect execution, great food and exceptional service.
Plain paper tears easily, soaks up stains, and is very difficult to clean. The restaurant noticed that their menus looked worn and dirty after just a few uses.
But like most businesses, this restaurant didn't have a lot of extra 'bread' to waste reprinting torn, stained or dog-eared menus. After searching for an alternative, and meeting with a Victor Printing printer representative, the idea of using synthetic paper for their menu really got their juices flowing.
Boasting a robust set of useful applications besides menu printing, synthetic paper is a stand out in today's paper market. To the touch, synthetic paper has a very high quality soft finished coating that's hard to keep your hands off.
When you need a waterproof paper with the best possible durability and tear resistance for your printed product, synthetic printing paper stocks are the best way to go.
Synthetic paper helps your print project venture into a new and exciting world of print possibilities, sure to add life to any of your printed pieces. Even though it is synthetic paper, the overall look and feel is just like regular wood fiber based paper, but with some amazing added benefits.
Why choose synthetic paper for your customers' next print project?
Waterproof (a.k.a. Spill Proof)
Tear Resistant
Bright White
Prints Images with High Quality Precision
Durability (a.k.a. Wipes Clean w/Water)
Variety of Grades, Weights, Opacities
Sustainability – 100% Tree Free, Recyclable
Impart a lasting impression on your audience by using synthetic paper on your next print project!
Give one of our Print-Experts a call and we will help you with your customer's next print project!
#MenuPrinting #DigitalPrint #PrintPartner