LARGE Format Printing.
When you're ready to go BIG, we've got you covered! At Victor Printing, we offer a wide range of large format printing services that can accommodate your large format requirements.
With high-quality resolution, vibrant colors and durable materials, you can count on Victor Printing's expert, large format printing capabilities. We can print banners up to 63″ wide and ANY length.
The flexibility of our printing allows you to print a single large poster or accommodate a larger run. We print on a wide range of materials that can accommodate short and mid-term, outdoor use.
Our print experts and our world-class customer service is available to help your project be a print-success!
Click here for a custom price quote.
LARGE Banner Printing.
Looking for a way to take your message to new heights? Go BIG and bold with full-color vinyl banners!
No matter which custom vinyl banner material you select, we use state-of-the-art large-format printing presses, so you get a high-quality banner that stands out in a crowd.
Trade Shows
Sporting Events
Sales Promotions
Grand Openings
Point-of-Purchase Displays
Fundraising Events
and MORE!
LARGE Poster Printing.
Create a BIG impact with vibrant posters. We offer photo-quality poster printing with sharp detail, accurate color and durable paper. Our poster printing is great for:
Workplace instruction
Sales announcement
Product launch
Promotional message
Service capabilities
And so much MORE!
LARGE Window Cling Printing.
Window space is a great advertising opportunity. Custom window clings are an attractive and practical method for capitalizing on window space. Share your message with the world.
Window decals come in a variety of standard formats and we are able to produce custom decals to fit your requirements.
There's more than one way to print a window cling, mostly because of the different ways that they can be placed on a window:
Mounted on the front of the glass, so that they are seen directly
Mounted on the back of the glass, so the design is seen through the glass.
Additionally, window clings can be temporary or permanent, depending on your needs.
LARGE Yard Sign Printing.
From home for sale to landscape advertisements, yard signs get your message out to all those passing by.
Yard signs can be used for many different occasions. Because they are double sided, you can be sure your message will be seen coming and going.
Common uses for yard signs:
Campaign Signs
Real Estate Signs (For Sale, Open House)
Contractor Signs
Business Advertisements (Sale, Grand Opening, etc.)
General Announcements (Park Here, Keep off Lawn, Private Property, etc.)
For Sale, For Rent, Now Leasing
Birthday, Graduation, Celebrations, Garage Sale
Let us see how we can help you -> Learn More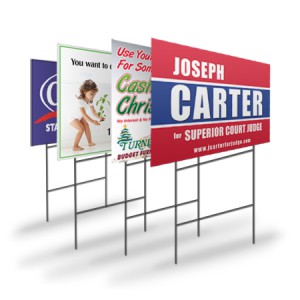 Give one of our Print-Experts a call and we will be glad to help you with any print concerns!
Ph. 800.443.2845
#PrintPartner #LargeFormat #Banners #Vinyl #RetractableBanners #YardSigns #Posters #BigPrinting #WindowCling #Marketing #Signs