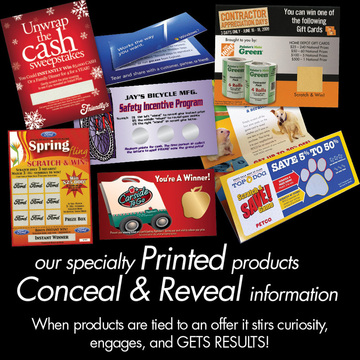 Victor Printing prints effective marketing materials for many businesses, but one that is often overlooked are scratch off cards. This outstanding marketing tool can generate incredible excitement for your customers.
Using scratch off cards in your customers' marketing arsenal, can instantly increase company sales and revenue, drive customers to their place of business or website, and can also improve employee moral, attendance and performance.
Scratch and win game cards can be used in various ways.
Employee incentives, trade show giveaways, in-store promotions, direct mailings, sporting events and fundraisers are all fantastic ways to use scratch off cards.
Scratch and Win cards can be used to:
Increase foot traffic
Increase sales
Create impulse shopping
Increase interaction
Create brand awareness
Employee incentives
We will make your next printing project a SUCCESS!