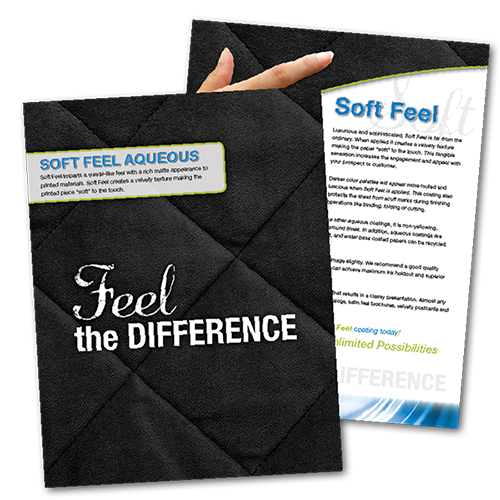 Luxurious and sophisticated, Soft Feel is far from the ordinary. When applied it creates a velvety texture making the paper "soft" to the touch. This tangible sensation increases the engagement and appeal with your prospect or customer.
Darker color palettes will appear more muted and luscious when Soft Feel is applied. This coating also protects the sheet from scuff marks during finishing operations like binding, folding or cutting.
Soft Feel coating is a water base or aqueous coating. Like other aqueous coatings, it is non-yellowing, dries quickly, and allows for faster press speeds and turnaround times. In addition, aqueous coatings are environmentally friendly – they have very low VOC content, and water base coated papers can be recycled very easily.
Like all other matte coatings, Soft Feel tends to flatten the image slightly. We recommend a good quality gloss paper as the substrate for best results. With it we can achieve maximum ink holdout and superior contrast.
Soft Feel coating provides an attractive and practical option that results in a classy presentation. Almost any printed product can benefit from this coating. Create silky catalogs, satin feel brochures, velvety postcards, and much more. You name it we can do it!
Request your Soft Feel sell sheet today,
and FEEL the difference!
P. 800.443.2845 | marketing@victorptg.com