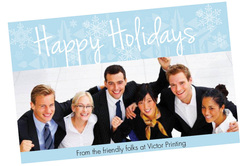 If you're customers are looking for a great way to send good tidings during the busy holiday season along with a little brand reinforcement, now is the perfect time to order custom printed holiday cards.
Here are a few ideas to help your customers create the perfect holiday card:
Design a creative card with a personalized photo of your team, your building, etc.
Include a hand written message or consider using a customized handwriting font for a personalized touch.
Include a coupon or a scratch off card as a thank you for your customer's business throughout the year.
Choose from custom sizes, creative folding, and unique finishing details such as a foil stamp, die cut, or metallic paper that will enhance your greeting card and help it stand out from the competition.
Instead of giving gifts with your cards, consider making a donation to a local charity in their honor, and provide a gift tag signifying your donation on their behalf.
Include a QR code that can be scanned to link to additional information, such as a voicemail, personalized message, etc.
Include a famous quote or inspirational or thought-provoking message that will entice a smile and be remembered.
If you need help creating a holiday card that is both rich in character and endearing to your recipients, give us a call today!