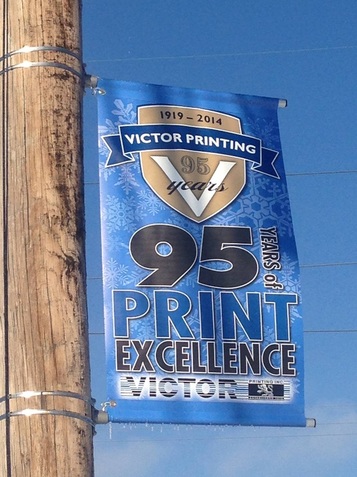 Street Banners make a GREAT Visual Impact!
Street banners are commonly used for advertisements and promotional events. Usually attached on flagpoles, they can also be attached to buildings, telephone or light poles. These banners are most convincing because of their colorful and eye-catching designs.
Street banners are often seen during festivals and special occasions. Towns and cities would usually have series of banners decorating their street posts to advertise events, or special features and attractions. These banners can also be used to promote a company, a special event, team or school.
For businesses, banners are the most visual mode of advertising their product and/or services. This advertising medium is effective and normally cost less than the usual forms of advertising like newspaper, TV or radio ads. At the same time, it extends on the target market more comprehensively because it is concentrated on a specific area.
Street banners are also works of art in itself and are pleasing to the eyes. People will most likely take time to look at an attractive banner practically taking in everything that is written on it.
Street banners are usually made of vinyl, which is an excellent form of outdoor advertisement. It is durable, yet affordable, making it a more popular material not only for street banners but also for billboards, table banners and flags.
Street banners are almost equivalent to a magazine or newspaper ad, business card or a listing on the yellow pages but links the prospective clients directly to the business.
Hiring a professional to create an attractive and effective banner and displaying it in a strategic place would surely attract more potential customers, thus, making street banners one of the most convincing form of promotional activities. Contact one of our many distributors that can help you design your next street banner, and let the print professionals make your masterpiece come to life!
Want to know more about street banners for your next print project? Call us at 800.443.2845 or email us at postmaster@victorptg.com.