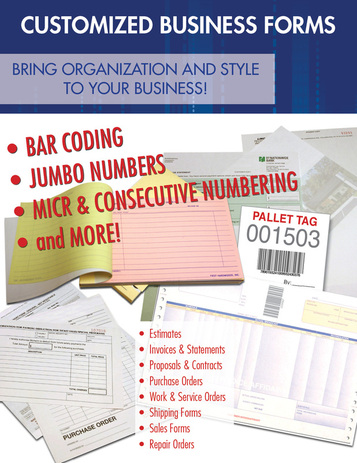 Bringing organization and style to everyday life.
Let's face it, nobody LIKES to fill out paperwork. But when it comes to your clients interacting with their customers, nothing says business than professional forms with their logo and company information.
Professional business forms not only relay a sense of order and reliability, but allow for smooth day-to-day operations.
At Victor Printing, we provide custom laser, continuous and snap set forms, complete with consecutive barcodes, jumbo numbering, and full color printing to meet all of your business form needs.
You can create customized business forms, with logos, company colors, and images to create professional looking forms that enhances your image and is tailored to your specific needs.
Selection. Service. And More.
Business forms are designed to improve the functionality of your business, improve efficiency, and decrease the possibility of errors. With our Quick List Brochure you can streamline your forms ordering process to save you time and money.
Don't have one? Call or email us and we'll send you a Quick List Brochure today!
P. 800.443.2845 | marketing@victorptg.com