The Digital Transformation Meets Automation at Victor Printing
August 15th, 2013 by admin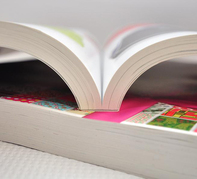 Victor Printing, a provider of print and print solutions, today announced the launch of their new perfect binding service.
Perfect binding is a bindery method often used for magazines, soft-cover books, manuals and work books, among other product types. Perfect binding is created by printing a cover on a heavy cardstock, then binding the internal pages into the spine of the cover using a strong but flexible heated adhesive. As the glue cools and dries, it holds the pages tightly in place. The uneven edges of the sheets are then face-trimmed to make the edges square.
This is a binding method some customers have been requesting for some time. The management at Victor Printing are so delighted to finally fulfill their wishes.
"Perfect Binding is a very popular method for short run, high page count catalogs," says partner and owner Terry Richards. "We're glad to finally have this option available and look forward to the blitz of orders from our loyal distributors. The Sterling Digibinder Plus is a great machine for digital color or black and white products. Both coated and uncoated stocks with be available on this new product offering. The addition of our new binding machine will enable us to improve our services and save time by keeping your entire print project in-house.