Full-Color Poster Printing Services
Grab the attention of your audience with large, full color posters. They are ideal for floor graphics, signs, movie posters, flipcharts, presentations, window displays and so much more!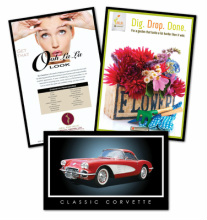 To sell more large format posters target the markets which include your best prospects; like retailers, mall owners, real estate brokers, building managers, movie theaters and sales organizations.
Show poster samples to clients and at trade shows, use them to promote your print products and services. Demonstrate to your clients and prospects how they can use them in sales calls, meetings, conventions and seminars.
Top-quality printing
Full color or black and white prints
A variety of shape and size options
Various substrates and paper stocks available
Do you have a promotion, special event, grand opening or just want to promote your products and services? Then brand your business in a powerful way with posters! Posters are one of the best marketing tools out there, and the fastest way to get the word to the masses no matter the size your business.
Whether you are printing 20 or 20,000, look to Victor Printing for all of your custom poster printing needs. At Victor Printing, we've got the tools to help you make your statement big and bold.