Increase Response Rates. Integrate Direct Mail into Your Customers' Marketing
September 6th, 2013 by admin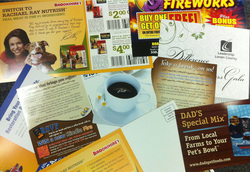 When it comes to direct mail marketing, your direct mail piece needs to have a design and message that effectively communicates with your target audience.
Whether it is a grand open sale, special event or just want to spread the word about your brand to potential leads, we make sure that our print and direct mail capabilities are perfectly aligned with your print communications demands.
Direct mail is a powerful marketing tool that delivers highly targeted, relevant offers that can be used in conjunction with other media to create a comprehensive cross-media marketing campaign.
We offer our printing customers a fast, quality, and convenient way to professionally mail postcards, brochures, greeting cards, booklets, newsletters and more.
With Direct Mail Plus Services, you enjoy the convenience of a one-stop solution for printing and mailing. And you'll save yourself the time and expense of shipping your printed pieces to a third-party mail house.
We can execute your direct mail in a wide variety of formats to match your budget and so your marketing piece gets noticed. Postcards, self mailers, scratch-offs, pull-tabs, die-cut pieces, just to name a few!
Whether you need us to print and mail your postcard, or create a full package including everything from design to postage, direct mail builds business and together with our print professionals, we will get the job done. We are your full-service print partner.
At Victor Printing, we work with the U.S. Postal Service on a daily basis, which means we'll help you secure the best rates possible for your direct mail campaign. We know what it takes to provide mailing services that lead to your ultimate marketing success.