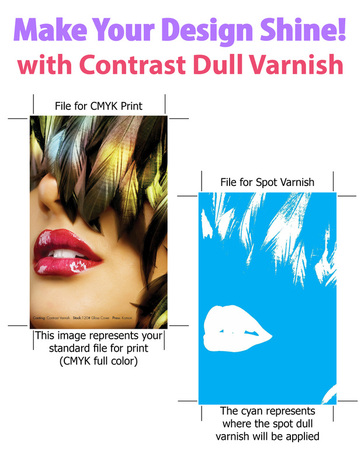 CONTRAST DULL VARNISH.
Contrast dull varnish allows you to highlight specific areas of a printed piece and adds depth to elements such as a logo or image. The spot dull varnish is applied first and then a flood coat of aqueous gloss is applied over the entire image.
A chemical reaction takes place between the two coatings, leaving a look of gloss and dull varnish with less cost.
FILE SET UP.
When creating a Spot Varnish job, You must include a Spot Varnish template file along with the regular full color file. The spot varnish template file is used to show where the varnish will be placed.
Sometimes to get noticed, you have to really SHINE!  
Call or email us for more Coatings information today!
800.443.2845

#PrintExcellence
#PrintPartner