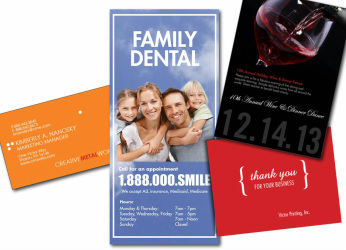 Capabilities of White Ink
Top-quality printing
Full color or black and white prints
A variety of shape and size options
Various substrates and paper stocks available
With the availability of white ink technology, you now have the option to create an impression with colored or metallic paper and allows you to continue to differentiate your communications and maximize your design and print efforts.
This technology allows us to print on colored papers and produce true white color as opposed to relying on knockouts on white stock, essentially, allowing our clients to produce a knockout white effect on a colored sheet which has never before been an option.
Bring new life to existing designs on a diverse range of media, including colored and metallic papers as well as transparent substrates.
White ink can be used in a variety of different applications. It's great for wedding invitations, business cards, window clings and any other special print pieces that you want to stand out.
it allows us to print high quality images on a variety of substrates:
Vinyl
Canvas
Glass
Mirrors
When you are ready to choose some paper for your next digital job using white ink technology, contact us!