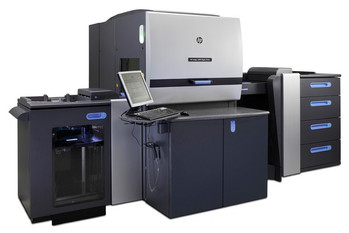 Print service providers, trying to find the balance between quality and quantity is a constant battle in the print industry. Victor Printing is no exception, and understands the importance of having the right machines for the right job.
The installation of the HP Indigo 5600 Digital Press marks another landmark in the development of Victor Printing. From its beginnings in 1919 to a modern print service provider, Victor Printing provides comprehensive services that include business forms, prepress and proofing, sign and display printing, commercial printing, print management with web-to-print facilities, variable data, mailing services, and in-house finishing. Throughout the years, Victor Printing has always maintained its commitment to providing their customers with specialized and high-quality printing solutions.
"With our new press, the setup stage is much faster, which allows us to print smaller quantities with very high quality and faster production times. Our customers will be very impressed with our new print capabilities," remarked Bill Richards, partner of Victor Printing.
The new HP Indigo 5600 Digital Press, with its versatility and ability, can easily switch between jobs and varied media types. The HP Indigo One Shot Color printing mode (available in July) on the HP Indigo 5600 Digital Press is uniquely designed to print specialty applications on a wide variety of synthetics, including PVC, PET, Teslin® and PC.
Victor Printing uses HP's Electrolnk UV Red to print customized, high-security documents without the need for visible codes such as voting cards, tickets, high value coupons, etc.; and uses HP Electrolnk White to print on a wide variety of substrates, including transparent materials, synthetics and metallic.
For over 90 years high quality products, great customer service & a strong team work ethic have been the building blocks of Victor Printing's success. They have the knowledge & expertise to exceed their customer's expectations. Complete customer satisfaction is the key to success, and now with the addition of the HP Indigo 5600 Digital Press, they will be able to increase their list of extensive capabilities with their trade customers.