Printing technology has made a lot of progress over the years. One of the most exciting developments is the ability to print digitally using opaque white ink. As designers, we are always looking for inspiration and white ink opens up a lot of possibilities.
Dark colored substrates that would have been incredibly difficult and expensive to print on before are no longer off limits.
White ink can also be used with metallic, synthetic and even clear substrates like window clings. Below is an example of a Halloween mailer produced using white and black ink on orange stock.
White ink can be used in a variety of different applications. It's great for wedding invitations, business cards and any other special print pieces that you want to stand out. Our HP Indigo 5500 digital press prints white ink like it would any spot color, making the prepress work relatively simple.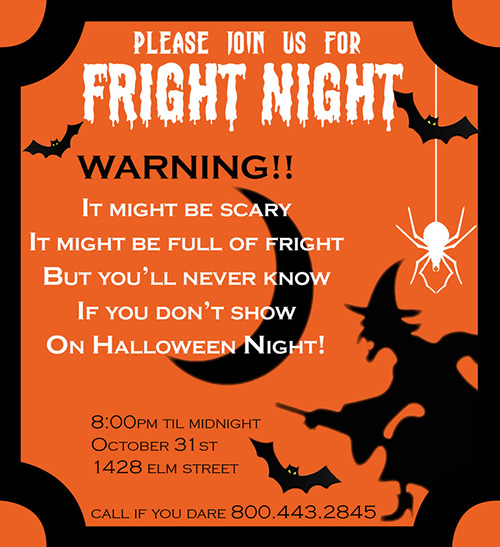 When designing with white ink in mind, it's important to take a few factors into consideration. Very fine type and lines don't always transfer well in white. Also when choosing a substrate, the smoother the better.
Take advantage of this exclusive capability this Halloween season for a TERRIFYING effect!
Differentiate yourself and make a GHASTLY statement using our white ink to print full-color images on transparent, colored, dark, and metallic substrates for a striking visual effect.
We hope this blog has inspired you to use white ink in your next print project. We're always eager to see this technology used in new and exciting ways.
Click here to request your FREE White Ink Sample!
or call one of our Customer Service Print Experts at 800.443.2845