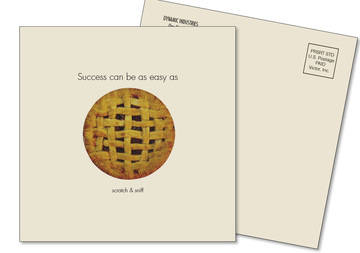 Scent marketing is a growing trend in advertising and is the latest way to stand apart from traditional print media. Adding scent to your print material, point of sale display or packaging will create an immediate link to your products and influence consumers purchase decision.
proven benefits of scent advertising:
Increases impulse buying 
Heightened awareness
Enhances mood and triggers desire
Increases excitement and interest
Greater customer loyalty
Influenced perception
According to Air Berger, scent marketing in a retail setting can boost impulse buying by 38%!
Scent marketing is definitely a leader when it comes to building memorable brands. It offers marketers a new way to engage with their target audience. It gets consumers to notice products by creating an enjoyable experience, thus adding to greater creativity and cutting through the media clutter.
Scent creates an immediate emotional response with the potential to increase sales and ROI.
There are actually other senses you can awaken with effective print. You can boost visual appeal by printing on unique color stock. How about a touchable texture, like our SoftTouch coating that makes your printed piece feel velvet-like?
Want to know more about adding scents to your next print project? Call us at 800.443.2845 or request your free scent sample at postmaster@victorptg.com.