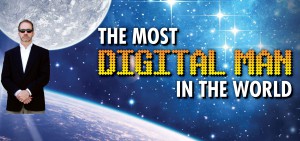 His blood is made of ink! People become more productive when they stand next to him. He is… "The Most Digital Man in the World" and he is the face behind Victor Printing.
He arrived with a bang on Victor Printing's YouTube Channel. His much anticipated arrival did not disappoint viewers, who tended to watch the videos more than once.
You can get to know and admire him as more videos are released. Be sure to subscribe to our channel to keep up to date on new releases. Comment on videos or suggest ideas for new films. Even request a personal meet and greet and autograph session with the star himself.
Perhaps his friend Anotole France, the writer and Nobel Prize winner, was right when he said. "To accomplish great things, we much dream as well as act"
CLICK HERE TO SEE VIDEOStay digital my friends!